The mission of the Pawtuckaway Lake Improvement Association (PLIA) is to monitor and act upon environmental and safety issues that affect Pawtuckaway Lake,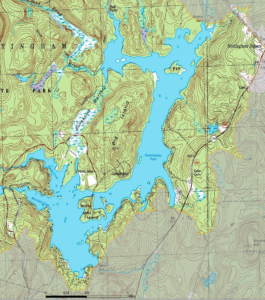 to educate the public on the conservation, protection, and improvement of  water quality, natural shoreline, wildlife habitat, recreational resources, safety, and natural resources as they pertain to the welfare and interests of Pawtuckaway Lake.  To that end, the PLIA collaborates with conservation commissions, planning boards, state and federal entities, land trusts and other conservation organizations working to conserve or protect natural resources that have an impact on the Lamprey River watershed that includes Pawtuckaway Lake.  We invite you to explore these pages, become informed about our organization, come visit and enjoy our "little piece of paradise", become a PLIA member, and consider joining our dedicated volunteers to help us achieve our mission.  You'll be in good company!

Mud Season in the Time of Social Distancing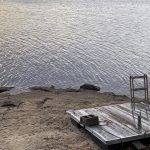 As long as you have to stay at home, you might as well do some yard work! For some tips from NH LAKES on how to clean up winter storm damage and keep our lake safe and healthy, read here…
PLIA Membership Stickers for 2020 Are Out!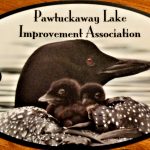 You can get your beautiful PLIA stickers by joining or renewing your membership now! Read more…..
Fundraising Opportunity for the PLIA
The PLIA would like to provide refreshments for the folks who work at the polls as well as the voting public at Nottingham Town Elections on March 10, 2020. In order to do that, we are looking for volunteers to help coordinate these efforts. Read more…
De-Icing Around Docks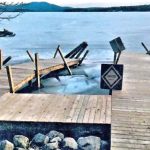 Uh oh! Damage from ice can ruin a perfectly good dock or docks, like these. Find out how you can avoid this kind of winter catastrophe in the future. Read more…
You Can Support the PLIA Whenever you Shop at Amazon Smile!

Learn how easy it is to make regular donations–at no cost–to the PLIA whenever you shop. When you buy anything through Amazon Smile, Amazon donates!  Read more…
2019 Resource Booklet is Now Available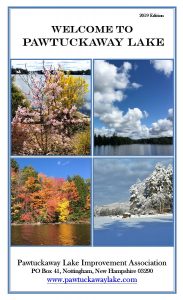 As a service to visitors, campers, vacationers, and residents on Pawtuckaway Lake, the PLIA has put together a "Welcome Booklet" designed to introduce our organization to the public and describe the opportunities that Pawuckaway offers to all. The last such Booklet was published in 2015. It was time for an update!
In this Booklet you will find a history of the PLIA, a description of its current Programs, information about Pawtuckaway Lake, some guidelines for enjoying and protecting the lake and its natural resources, and many references to other organizations or government agencies that team with us to keep the lake healthy and safe. We hope you will patronize the businesses that have sponsored this publication, and that you will become a member of the PLIA.
You'll find it on the Menu bar and you can also click here to read it. Welcome to Pawtuckaway Lake!
Slide Show on Aquatic Invasive Species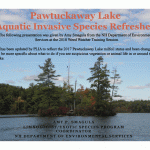 Spring is finally here and the growing season for invasives is here, too! There is an informative presentation that Amy Smagula, of NH DES, prepared specifically for Pawtuckaway Lake. NOW is the perfect time to take another look at it or check it out if you haven't already seen it. Click here…
Now There's an Easier Way to View Our Photos
Our three photo galleries–Wildlife, Boat Parade, and Scenic–can now be viewed as slide shows! That enables you to look at and enjoy each separate photo, enlarged and uncrowded by all the other ones on the page. Each gallery page has simple instructions on how to start watching, how to advance to the next photo, or how to choose one to view by itself. We have added three buttons to this Home page, each of which will take you to a different photo gallery with one click. Scroll down below to find them. Enjoy! And remember, we are happy to post photos taken by any of you Pawtuckaway Lake lovers out there! Just email us at  Info@PawtuckawayLake.com with an attachment of your photo. After all, that's where our photos came from in the first place!
Photo Galleries