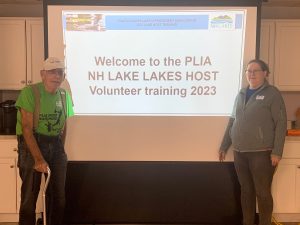 On April 1, 2023, three dozen people filled a room at the Nottingham Town Offices for a training conducted by the Pawtuckaway Lake Improvement Association (PLIA). The topic was about spotting and preventing invasive species from entering a lake or pond.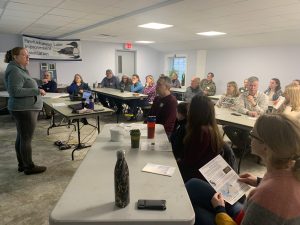 PLIA Lake Host Coordinator Dee Decker and Weed Watcher Co-Chair Steve Soreff made presentations about courtesy inspections of boats and trailers, and how to recognize aquatic pests like milfoil, phragmites, purple loosestrife, and water chestnuts.
PLIA member Sonoma Potavin explained about the dangers of Chinese mystery snails and her project to find and remove them from Pawtuckaway Lake.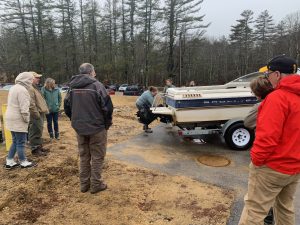 When the rain abated, the crowd moved outdoors for more instruction on ways to inspect boats for the presence of invasive "hitchhikers."
The meeting ended with a pizza lunch and time for swapping stories and exchanging information about invasive species and how to help keep our lakes clean and safe. The program was a great success!