Early in 2014, the Society for the Protection of New Hampshire Forests announced a project to conserve a huge section of wetlands, forest, and open space on the Helen Fernald land with water frontage in the Fundy. This Conservation Easement will be a HUGE step forward for lake preservation, especially in the fragile Fundy area.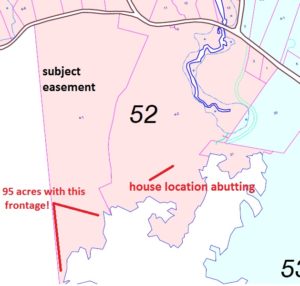 The Easement includes nearly 1000 feet of shoreline along Pawtuckaway Lake and would guarantee public pedestrian access for low-impact recreational activities.
The Easement shares a boundary with the 5,410-acre State Park to form an enlarged habitat needed by large mammals and wildlife, and contains an uncommon natural community with black gum trees believed to be 300 years old.  Since this forested land drains into Pawtuckaway Lake and features wetlands and a stream called Mile Brook, protecting the land also protects water quality. It also protects Nottingham's rural character and preserves scenic views across the lake.
It complements the Four Generals Greenway initiative developed by Nottingham citizens and expands the largest block of conservation land in the southeastern part of New Hampshire.
All of these conservation efforts fall within the Bear-Paw Greenways land trust which combines and holds thousands of acres of land.  Its master plan envisions a continuous wildlife corridor stretching from Bear Brook State Park through the Pawtuckaway Region.