For those with property on Pawtuckaway Lake, this Act establishes minimum standards for the subdivision, use and development of shorelands adjacent to the State's public water bodies. The Shoreland Water Quality Protection Act includes limits on impervious surfaces near the shoreland, restrictions on vegetation removal within a waterfront buffer, and the establishment of a permit requirement for many new construction, excavation, and filling activities within the protected shoreland. NH DES provides a comprehensive overview that explains these provisions and answers frequently asked questions at:  http://des.nh.gov/organization/divisions/water/wetlands/cspa/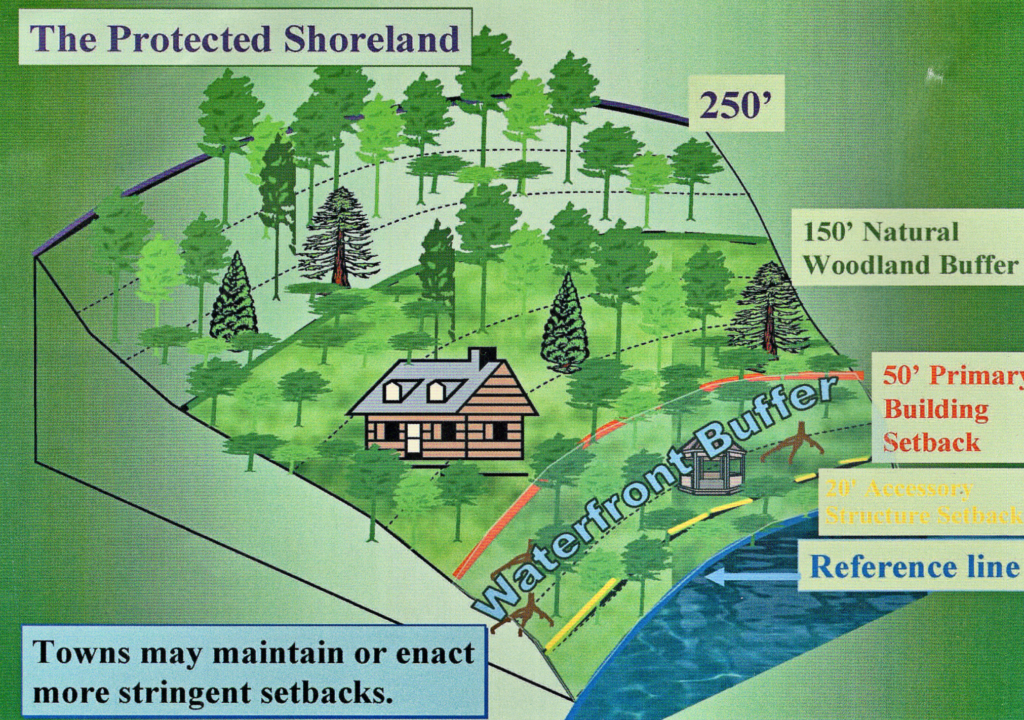 Brief Summary: The first 250 feet of shorefront land from the high water mark back is protected. No fertilizer or pesticides can be used within the first 25 feet.  The first 50 feet is a no developing buffer zone.  Tree cutting is regulated within the first 150 feet.  For example, limbing and trimming is OK, but removal is strictly regulated.
Purpose:  Vegetation maintenance is a key component in preserving the integrity of public waters and is also a critical element of wildlife habitat.   Further, it can more naturally manage harmful storm runoff.
Beaches and Sand:  This is pertinent to all waterfront property—a wetlands permit is required before any sand can be dumped or work started. This also includes replenishing beach sand. Work completed without a permit may result in a removal and restoration order, and possibly fines.
Docks:  Contact NHDES Wetlands Bureau to determine if a permit is required (http://des.nh.gov/organization/divisions/water/wetlands/docks/index.htm) for:
Repairing an existing dock
Installing a new, single seasonal dock
Installing or modifying a permanent dock
Constructing new, seasonal docks or modifying the footprint(s) of existing, seasonal docks
Installing a single boat lift or no more than 2 jet-ski lifts
Adding a seasonal canopy to a dock