Charlie Soroko, White's Grove, Interviewed by Jeff Gurrier

How did you first come to Pawtuckaway Lake?
In 1931 Fred Gove had four rental camps down here in the grove. And, I mean camps! They were two by fours, some boards, a roof, and that was it. No plumbing, just an outhouse. That was during the depression so people didn't have much.  My wife's uncle Al (Viens)—he was a bachelor all his life—he was the one that found the lot here on the lake. That was even before I knew him. He leased this lot from Fred Gove way back in 1931 for $7 a year.
Al was from Nashua, he was a millwright at the Jackson Mills. They made sheets, mostly percale sheets. During the war they started making cloth for the soldiers.  During the depression the mills were only open 2 days a week. So, people had a lot of spare time on their hands.
I met Al around 1931; he was a neighbor who lived on the same side of the street as I did. My father worked in the same mill and they got friendly. They both had beagles for hunting, too. So, that is how I met him. After that I came down to the lake every weekend. I was 13 years old.
I spent a lot of time with Al, more time than with my father! My father came up to the lake, too, just not every weekend. He loved to fish and went to different places. I have pictures of them with the long string of fish they caught here.
This place here was Al's life. He was very handy at doing things; he taught me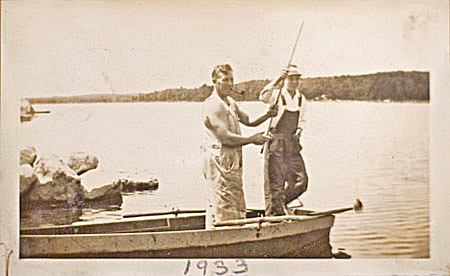 how to do everything. He did all the work himself except when they hooked up electricity. He never tackled that. People always asked me how I got so handy and I'd tell them, "When I see someone working who looks like they know what they're doing, I watch them". That's the way I learned. Nowadays you can get all that information in literature and books. We didn't have that.
The camps up here were all built by working men coming up here on weekends. I don't remember anyone having a contractor build their camp for them. They all built them themselves. It was all done little by little by people who didn't have any money. So, you'd save a little and you could fix things up a bit.
When Al leased his lot from the Goves, did it have a camp on it?
No, we built the first camp in 1931; the camp I stay in now was built in 1952. This was an empty lot. Al moved the first camp up from Nashua. Right in the middle of the city they had a livery stable. Years ago they had teams and wagons instead of trucks to deliver things. So, this guy wanted to have this livery stable knocked down and removed. Al took it down for board and beam, hired a truck, and brought all the wood out here to build the camp. And, I mean it was a camp! Tar paper shack really; they didn't have much money to spend on it.
I have pictures of the camp when it was a tarpaper shack. Even the roof was tarpaper. I remember Al had a sister that would come down with her husband. When we got 90 degree weather, talk about your stink! It came from the wood; the urine and everything from the horses would start to smell. She said to him, "Either you do something about this or I'm not coming here anymore!" So, that's when we finished the inside.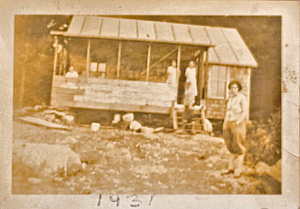 It took about a year from when Al first leased the land until the camp was in good enough shape that we could spend weekends up here. Once it was a basic shelter we came up. We had two bedrooms that were separated and the rest was one big kitchen.
We'd always make a little improvement when we had the money. When Al died, I was executor of the estate; in all the papers I found a bill for the original windows he ordered for the camp. He had ordered just the sash and we made up the frames. The bill was for $8.00! That was for about 10 windows. I still have that bill.
I remember we had this big cast iron Dutch oven that sat right on top of that stove. We'd put a pork roast and a beef roast with potatoes in there. Oh my God, was that delicious. But, you have to realize, when you come up here summer times, you've got to cook. What have you got? You've got a wood stove. So, when it's 90-degrees out what are you going to do? You're going to light that stove, you've got to eat. Boy was it hot in there when you were cooking. It was a godsend when they put electricity in. That was in the late 1950's.
My wife's uncle Al made a model of the first camp, it's sitting on a pedestal outside. That model was all made by hand. The siding, which looks like clapboards, was all whittled out with a knife. I had to do a little work on the base—carpenter ants had gotten into it—but the rest of it is original. I put another roof on it; I made it out of linoleum.
How did you get to the lake in the early 1930's?
We would come down in Al's Model A Ford. It is 32 miles from my home in Nashua up to the lake. We drove through Derry, Hudson, and Chester on Route 102. There was nothing in Chester at that time. But the road was paved all the way to Raymond. It took us a good hour and a half to get from Nashua to the lake. People weren't traveling at 65 mph in those days!
I don't think people realize what kind of roads we had to travel on back in 1932. The road from the top of the hill at Moody's Farm on Rte 156 all the way to Nottingham was dirt. They started paving that just before World War II. They made it much wider. As you're driving down the hill you can still see where the old road was, a part of it anyway.
From there on it was dirt road and I mean it was single lane! Every spring we tried to make it to the camp and we could never make the hill, it was mud season. The reason for that was years ago when they made roads, they went the easy way. They'd go this way and that around rocks and trees. If the road had been straight we could've made it. Down at the bottom of the hill where the stream runs across the road there was a single lane wooden bridge in those days.
The road down to the grove was in pretty good shape. Up at the top of our road there's a white gate, it's just an ornament now. That gate was used back then because Fred Gove used all this land for pastureland. It was nothing to go out the back door in the morning or the evening and there would be a cow right there! From the camp all the way to the main road was all pastureland with cows grazing in it.
We had to bring everything with us from Nashua except water. We have a well down here in the grove. Since I've been here, with all the droughts we've had, that well never dried up. It's a dug well and it's the tastiest water, I'm telling you. People come from all over to get water from that well. And, it's cold, really cold.
Did you know Fred and Rose Gove well?
We knew the Goves very well. We would come down on Friday night and our first stop was at the Goves' farmhouse. We'd tell Rose that we needed some ice for the weekend. They had an icehouse a couple of doors down from our camp. It's been turned into a camp since then, but it was where everyone got their ice back then. I have a picture of the icehouse; it had a shute coming out of it that went right down to the lake.
We'd tell Rose we needed some ice and she'd say, "Ok, I'll tell Fred". Fred would go into the barn, harness up the horse to the buggy, go pick up the ice, and deliver it to our door for 10 cents. The Goves didn't have a car; all they had was that horse and buggy. We had to have a block of ice that was small enough to fit in our icebox; it wasn't that big. He would saw off a block that was just the right size. He knew how big a piece to cut for everyone; he knew how big everyone's icebox was.
Rose Gove had a little candy store in the big farmhouse. They never sold any milk but they had bread, candy, and canned stuff that you could buy. It was very limited what you could get. But that was quite a thing for us kids to leave the camp and walk up the road to the store to buy some candy.  That was quite a thing way back then.
After they sold their property to the Whites the Goves rented different homes around the area. They lived up on Nottingham Square for quite awhile. Then in the summertime they lived in one of the camps they had down here in the Grove. They stayed local until they passed away. Fred had to be in his 90's anyway. I think that was in the 1950's.
I remember Fred Gove told me that his grandfather used to see Indians on Big Island.  I don't know what tribe they were, though. I think it was the Indians who named the lake Pawtuckaway.
 How old were you when you first came to the lake?
I was 13 years old. There weren't any other kids around at that time; I was the only one. I take that back! The Thurstons had a boy and a girl and I was friendly with them. The girl's name was Edwina and they used to call the boy "Boy".
We'd come up to the camp on Friday evening. Come Saturday morning we started to work. I didn't have much time to play. We worked. Can you imagine how much work it was to clear all the rocks to make a path down to the water? It was all bull work just clearing that path. We had to pry each of those rocks out of there.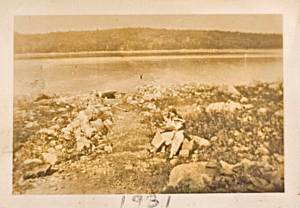 It was a big job clearing the rocks out in front of the camp. In fact, Al hurt himself badly straining to move some of those big rocks. After we had moved them all by hand a bulldozer came in one day and pushed them all away in one big swoop. At least we had cleared a path for him. We have a wall of rocks between the properties; that's where a lot of those rocks ended up. That's why we call this camp "Rockland".
The water comes right up to the front of your camp; where are the rocks you were talking about?
People don't realize how small the lake was before the manufacturing company started to raise the water level in the mid 1930's. The company was so desperate for water one year that they blasted in the South Channel, over by the camp 'Calitaday' (now gone; formerly located across from the Horse Island boat launch—ed.), to bring more water into the Dolloff side.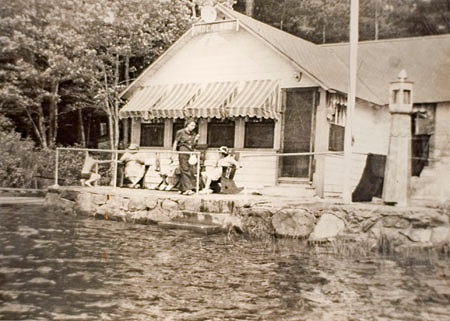 After they raised the water level, in the spring time the water came right up to the house. The water was so high, all I had to do was open the front door and I could cast a line out and fish from there. By the end of the summer the water would be a good 60-70 feet out from the shoreline. During the summer they would slowly drain the water down to power the mills in Newmarket.
Every weekend when we first came up we would have to move the dock out further to where the water was. Eventually, we got tired of that. We put two wagon wheels on the end of the dock and we'd just pick it up and roll it down to the water. It didn't bother us too much in the fall because we didn't really come up after September.
And, you have been coming up to the lake ever since?
I've been coming up from 1931 all the way up to this present day. Well, except for three and a half years that I was in the service.  I went into the Army in 1942; I was 22 years old. When I got out of high school, my father helped me get a job in the Jackson Mills.  Then I got drafted. They started us in San Francisco and we went all the way to New Caledonia, which is an island off of Australia. From there we got the orders to go relieve the Marines at Guadalcanal. That's where we went… Those were some hard times.
When I came back home I got a job at the Nashua Corporation on Franklin Street. I got a job in the department where they were printing wax paper for Bond Bread. That was quite a thing at that time. That was 1946. We had one press that was running day and night making wax paper just for Bond Bread. Wax paper was a big innovation; it made the bread last longer.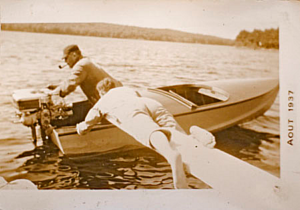 When I got back home I picked up right where I left off. We came up every weekend. After the war we started getting speedboats and other luxuries. Al got a hold of a second hand Johnson 40hp outboard motor. It was a speed model, which was a racing model. It was fast – if you could get it started. Talk about go! We were the first speedboat on the lake at that time. The water was up higher by then so the lake was much bigger. We could go all over the place.
He had ordered a brand new speed boat from Thompson Boats of New York. It was a beautiful boat. We got sick and tired of the darned thing, though. It was too finicky so we sold it. That boat was a split cockpit runabout made out of mahogany plywood. The motor was heavy; it was only a 40hp but boy, it was heavy.  They started building big outboard motors in the 1950's. They were getting to 40hp or 50hp and those gosh darned things were noisy.
When did you meet your wife?
When I met my wife, it was a coincidence really. My wife was living in Montreal where she was born. Her father died but her mother was an American citizen. They had no relatives up there in Montreal so they moved to Nashua and moved in with her uncle Al Viens. So, that is how I got friendly with my wife; she ended up living right next door.
I met her before I went into the service. She came to live in the United States around 1940. She came up to the lake every weekend with her Uncle Al. I was here and she was here and you know, I never thought it would turn out that way but it did. We got married in 1947, the year after I got out of the service. We had three baby boomers: two boys and a girl.
My wife didn't stay up here all summer; we traveled back and forth. We'd come up on Friday and leave on Sunday night. I got hold of an old Plymouth to bring the family down to the lake. Before we got that car, we all piled everyone into Al's Model A, kids and all. My kids were all brought up here and now my grandchildren are here. I lost my wife 13 years ago but before that she came up with me every weekend. When I retired in 1982 we stayed up here all summer.
Today my daughter lives next door. They burned down the old camp about 8-9 years ago and built a year round house. The firemen had a ball, they practiced on it. They made fires and then put them out. I was standing out on the walk when they were burning it down. They asked me if I felt sad and I said, "No, what I feel sad about is that they had to cut down about 15 pine trees that were over 100' high". That's what really hurt me. They had to cut them down to put in the septic system.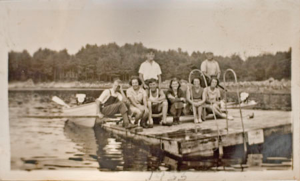 There were five in my family, plus Al, my daughter and her three children, her husband and my mother-in-law! So, there were about 12 of us living in that first camp. We had a bedroom upstairs with two beds. It was a slanted room but there was enough room to move around. There were two bedrooms downstairs and we had to make the sun porch into a bedroom to accommodate everyone. It got steadily more crowded every year.
How did you end up with two camps on the lake?
My uncle bought these two lots from Webster White, Sr. It's funny, I had Webster White, Sr. for U.S. History at Nashua High School; it was quite a coincidence. Webster drifted into Raymond because he was the principal of Raymond High School. He got wind of Fred Gove's property being up for sale in 1947.
Webster didn't have any money but he had a note from the bank he needed to pay off. So right away he offered to sell the properties of all the campers that were already here. So, that's when Al bought the two lots. He paid $250 for each lot. Imagine what that would be now!
Al left these two properties to me when he died of cancer in 1969. He had been a heavy pipe smoker. When I was executor of my uncle's estate I found some of his old tax bills. They were about $14 to $20 a year. I think we're getting the same level of service today that he was getting for $14. They're very good about maintaining the road, though, which is great. But, that is really the only service you get.
So, now I had these two properties side by side. But, it got to the point that the taxes were so high I couldn't afford both properties. So, we built this camp for an investment in 1952. We rented it out for years, up until around 1970. At that time we were all staying in the one camp. I had three children; we had them piled up three high! So, I approached my son-in-law to take over the rental camp and he didn't hesitate one bit. So all of my daughter's family moved into the rental camp and my wife and I stayed next door.
We built the rental camp, named "Germaine", for $1,800. That was all for the materials including the septic tank; the labor was free, of course. But it was work with no stress. When you wanted to quit, you quit. If you didn't want to work that day, you didn't work. When we were finished we started renting it out.
We had the same people renting the camp every year. There was even a waiting list! And, I know why. We were very reasonable on the rent. The way I looked at it, the people we had didn't do any damage and they'd come back year after year. And, if they left the place dirty, well, all those folks were related; so they were leaving it dirty for someone they knew. So, they sorted that stuff out among themselves. We had nothing to worry about.
The renters mostly stayed for two weeks at a time. We had one couple that would rent in June, which was early in the season. Everyone came from Nashua; you know, it was all word of mouth. A lot of these people we knew in Nashua from years back, so they weren't strangers.
What did the renters do for recreation?
All my tenants played horseshoes down in the grove. That's before all the pine trees got blown down in the hurricane. That's all they did all day, play horseshoes. Come evening, they'd put lights up. Everybody would come around. All the players were sipping tea, you know [wink]. Everybody came out for that. We had all types of competition. I was only fair at horseshoes. Al was very good; he was an overhand thrower. We only had one horseshoe pit so everyone had to take turns.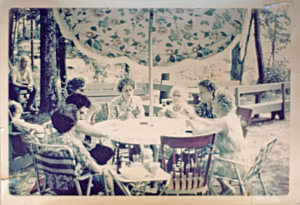 The men weren't interested in fishing that much, they just wanted to relax. You know how it is during the week here, it's very quiet. The woman folk used to love to play cards. They played Bid Whist for hours. Their relatives would come down to visit for the day and play cards with them.
We had some beautiful trees down here in the grove. But, in 1952 when we had the hurricane they got all twisted up and blown down. We were a little more sheltered here but down in the grove the wind really hit them. What a mess. We were here when it happened, we rode it out. We had a pine tree fall over and hit our shed but that was about it. There was plenty of damage in the area and the road was blocked. Luckily, nobody was hurt. That was the first year that we rented out the new camp. Those folks were pretty scared. They kept coming back but when there was a storm, they left in a hurry!
What did you do for fun?
There was no recreation up here to speak of except to go fishing. And, boy did we ever fish. There was plenty of fish in those days. Back then we had small mouth bass; we didn't have the large mouth. We had plenty of pickerel. There were lots of hornpout. We loved to go hornpout fishing. They only bite at nighttime. In those days we didn't have a flashlight, we only had a lantern. I still hornpout fish. I learned how to clean hornpout from Al; I didn't know how before he taught me.
Our favorite fishing spot was over on Dolloff Pond. There wasn't anything over there; it wasn't built up at all. There was good fishing over there. Around 1936-1937 the Newmarket Mills were crying for more water to run their turbines for power. At their own expense they raised the dam 10 feet. That's when our front yard was flooded, everybody's was.
We used to hunt on the big island too. We still hunt on the island for deer. We see the same amount of deer around that we used to see. They were never that abundant, but their numbers have stayed pretty much the same. Once you hunt in an area and really know it you hate to go try somewhere else. You learn how the deer run and where they like to stay. We hunt right up to the edge of the marshes.
There was a great cranberry bog back in the marsh. We used to pick cranberries back behind where the store is now in the State Park. Of course, that was before the State Park went in. There were a lot of cranberries back there but they're all gone now.
I've been hunting out there since 1931. Back in those days we still had jack rabbits, we used to have beagles to hunt for jack rabbits. They were tasty.  We'd make rabbit stew or parboil them and brown them in butter.  I haven't seen one in years.
My son and I still hunt every year. We would find partridge out in the woods but we never saw pheasants. This was never really pheasant country here. There weren't many turkeys until they started a program to bring them in. The first turkeys they planted were right here on Pawtuckaway Mountain. This was the first experiment they had introducing turkeys and they let them loose up at the fire tower. It didn't pan out though; they just disappeared.
Did you have many neighbors in the early days?
People were very friendly here. All of our neighbors on this shoreline were from Nashua. Word of mouth, one by one, we told them there was a camp available and they'd come down and buy one. We'd see them during the week at work, and then we'd see them up here on the lake on the weekends. It was mostly people that worked in the Jackson Mills.
At that time there weren't that many camps except over on Fernald's Cove. They have the best shoreline on the whole lake. They've got the whole sweep; they can look all the way down the lake. They can see everything that goes on around the lake. That was the first development; they knew what they were doing. It's sheltered from the North wind in the winter and you get the sun in the springtime. Because, boy, we really get the Northwest wind here.
The folks in Fernald's Grove were all from Manchester. I think they all worked for International Shoe Company, except for maybe Dwight Crow. There was a Blake, a Proulx, and a Thurston. Proulx only had one arm; he was an elevator operator. Blake was a foreman. Word of mouth they found out about the lots. News would spread that there was a place to build a camp. That's the way it happened back then.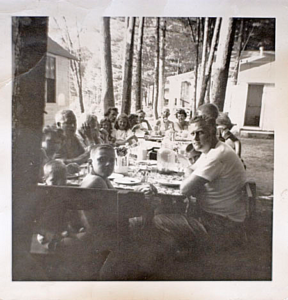 We knew all the people over in Fernald's Grove. We'd have a big gathering, a picnic. I think we had more flat land than they had over there so we had the picnic on our side. We had a nice pine grove that made beautiful shade. That was before people would cut down the trees. So, we would have a summer gathering. We had a barbeque; everyone would bring something different to eat.
On the big island there were two teachers and they used to come out and stay during the summer. There was one on the little island too. They came into the grove and rowed over to the island. They needed to come over to get supplies and food. They loved it; it was real solitude out there. No one bothered them. There are still remnants of their camps over there if you poke around.
I remember there was a beagle kennel back in the woods by where the boat ramp is now. I don't know if he was raising beagles but you could hear them. There are remnants of that camp in the woods back there, too.
I knew the Brustles. We got to know them at the end, he was quite old then. There were sailboat races on the Dolloff side. Hans Brustle was involved in that. My grandkids all had sailboats so they were racing over there.
The Holdens had a seaplane. They would come to their camp in that plane.  I'll never forget the beautiful boat he had, too. I think it was called a Yellow Jacket. It was made out of birch plywood, it was fantastic. I remember when they were building that camp. It was the father and mother that built it by hand. It was about the same time we were building this one.
I think the Grogens had the first pontoon boat on the lake. That is the best thing. We had speed boats and my daughter and all the other kids would be having a helluva time on the water and we're all sitting on the shore watching. We finally said, "What the heck are we doing!" We sold the speedboat and bought a pontoon boat. It's the best thing when you have company. And, it keeps the lake quieter.
How did people feel about the State Park development?
Thank god the State came in and bought all that shorefront. Can you imagine what the lake would be like if that land was all covered in houses?
I remember when we first learned that the State Park was going to be built. People's reactions were all negative. People thought it would be noisy with people raising hell all the time. But, you know the State Park doesn't bother us at all. It took about a year or two before people realized there wasn't going to be a problem. It doesn't really affect us at all.
People fought the public boat launch for years. It took a long time for them to get that through. It turned out to be a good thing. You've probably noticed how many kayakers use the lake these days; they all put in at the boat landing. So do the bass fisherman; they enjoy the landing, too. They have a beautiful ramp now since they paved it.
What do you think are the biggest challenges the lake faces?
Thank god we don't have those exotic plants in our lake. You probably know how bad the weed situation is up on Winnipesaukee. It is really bad. I wouldn't dare dive into the water for fear of getting tangled up in all the weeds.
The water was much better in those days also. It was much clearer. When most of the old camps were built they were putting in septic systems that—half of them anyway—were seeping into the lake. They didn't have any restrictions. It was the best thing they ever did when they started clamping down on that.
The big change on the lake since 1931 has to be the quietness. We didn't have all these gadgets running around making noise like outboard motors going 60mph and things like that. Outboard motors were just coming out back then, so at that time everybody rowed. We were all in the same boat in that respect. I used to have to row my uncle to Fundy to fish for hornpout. And, the oars were made out of solid oak and boy, were they heavy. I'll never forget those oars. Al carved those oars out himself. Money was pretty tight in those days, so if you could make something yourself, you did.
I hope this future generation wakes up and realizes that everything that Mother Nature has given us needs to be taken care of and not abused.
September, 2006