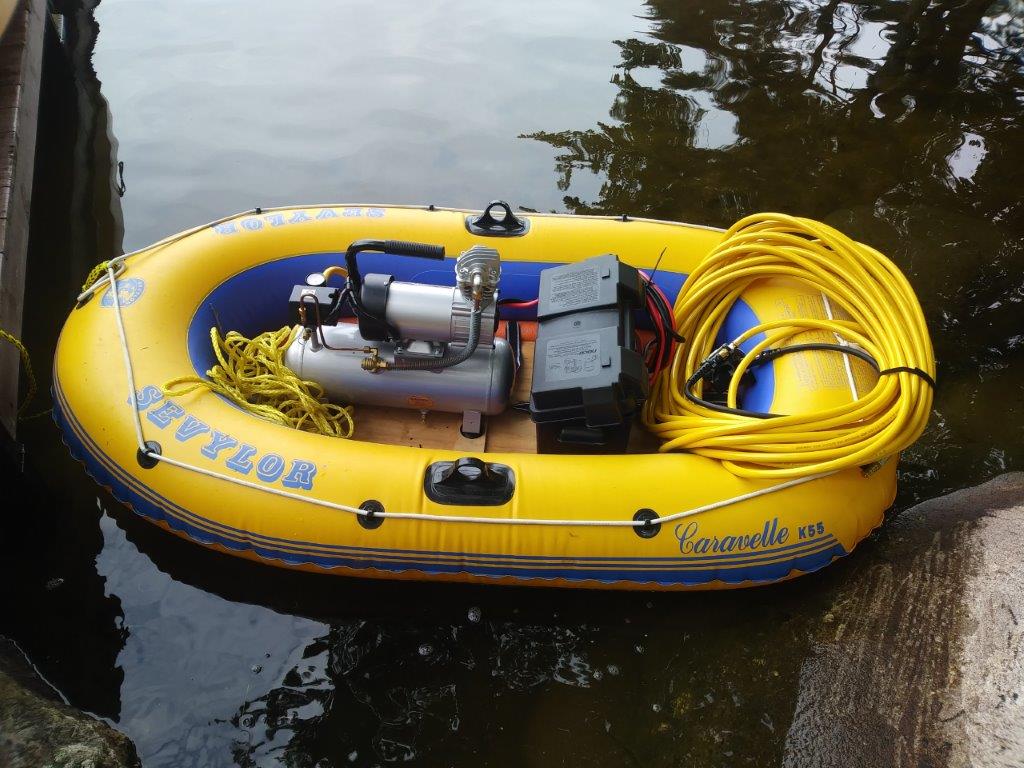 Thanks to all our generous membership donations, the PLIA's Milfoil Management Team has been able to acquire new gear to expand and improve their search and removal operations!
While the Milfoil Team has had a hookah rig since 2018 as well as having numerous milfoil markers, collection bags, and safety gear, the goal is to continue to make the team activities more comprehensive and efficient to contain the milfoil threat.
This year, the PLIA used dedicated membership donations to purchase a second hookah rig and related equipment. This second unit will enable our milfoil team to add two more divers in our ongoing search for milfoil. With another hookah we can cover more areas in a dive session and search heavily infested areas more often in the summer season.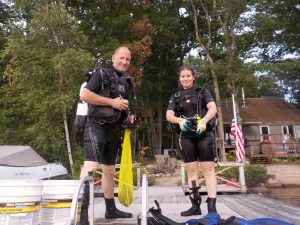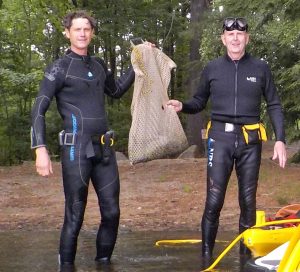 In addition, with dedicated funds we paid for the Weed Control Diver certification of three PADI divers, allowing us to remove milfoil quickly and without dependence on outside organizations to do it for us.
Invasive Species Prevention and Mitigation is the centerpiece of our mission to keep Pawtuckaway Lake clean and healthy. Those efforts include prevention, detection, and removal of non-native milfoil and other invasive species like water chestnut, phragmites, and purple loosestrife. We do this work through three equally important programs: the Lake Host Program, Weed Watchers, and Milfoil Management:
Lake Hosts inspect boats BEFORE their entry, preventing infestations and saving hours of searching and extraction; they also educate boaters about the dangers of aquatic invasive species;
Weed Watchers cruise the lake to find suspicious or infected locations of all kinds of invasive plants, and once detected, remove all but milfoil, which can only be extracted by certified divers;
Milfoil Management team members search for and extract milfoil infestations with the assistance of kayak support to ensure safety.
We think of our invasive species plan as a three-legged stool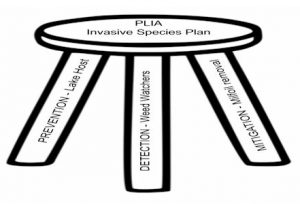 that supports our mission to protect property and recreational values for everyone who uses the lake:
With this multi-pronged effort, the PLIA Board of Directors has decided that all donations received in the future should be maintained in the general fund so that we can properly allocate them to a specific effort where needed. Over 75% of our annual revenue is expended on invasive species prevention and mitigation each year, so your generous membership donations are always both appreciated and well-spent.
We thank our members and donors for their continued support of PLIA activities as we look forward to a productive 2021 season. We couldn't do what we do without you!