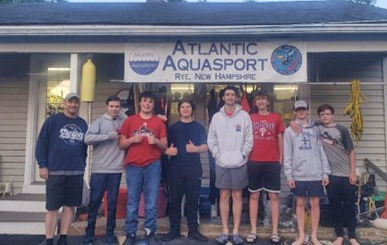 Jamie Burleigh, Weed Control Diver for the PLIA Milfoil Team, is pleased to announce that the Scouts of BSA Troop 167 are on a mission to help with Pawtuckaway Lake's milfoil problem. With the help of Scout Master Dan DeButts and Jamie, a dive club has been formed within the troop.
To encourage more people to become stewards of the lake for milfoil control, Jamie has worked with Dan DeButts to develop a program that would enable Scouts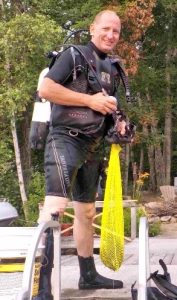 to be trained in SCUBA diving. This will be considered community service for their requirements for advancement and a Merit badge, because the Scouts who are getting SCUBA qualified will be part of the troop's dive club.
The plan is for Jamie to train these Scouts to search for milfoil on Pawtuckaway Lake, as organized by Dan DeButts and coordinated with the PLIA. Those Scouts who do not wish to be certified can be trained as surface support for search divers in the troop, so any Scout who wants to be involved will be able to join the club. Adults who want to dive with the Scouts will have to take Youth Protection Training and be active with the troop in some official capacity.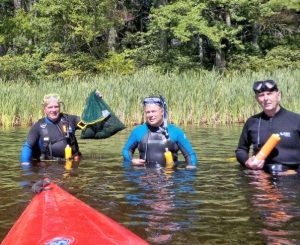 Jamie reports that the Scouts have now all completed the class and pool requirements. Unfortunately the weather in July has not allowed for their two open water dives to complete the training. Their plan is to get it completed the first week of August if the weather cooperates.
The aim is to instill in these Scouts a desire to help after Scouting and, Jamie hopes, be future stewards of the lake. The more mature Scouts, after at least a season of searching, can become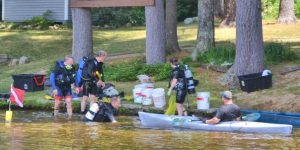 Weed Control Divers. He will train them how to identify milfoil and how to work near it so they don't accidentally spread it.
The PLIA applauds Jamie's initiative and wants to assist any interested Scout in taking the SCUBA certification course, which is costly. For that reason, the PLIA Board has voted to donate $2,000, to be managed by the Scout troop and specifically assigned to pay for certification. With any luck these Scouts will become the next generation of lake stewards.
Thank you, Jamie and Dan!