Earlier this summer, the PLIA initiated a letter writing campaign to let our State officials know that we had grave concerns about plans to expand the campgrounds at Pawtuckaway State Park to add 35 waterfront RV sites with water and electric hookups.
Issues were also raised about the inadequate condition of existing toilet and septic facilities at the Park.
In addition, problems of erosion at waterfront campsites have increased since the Park stopped enforcing its rule requiring campers to swim only at the Park beach.
We are pleased to announce that the NH Division of State Parks has listened to stakeholders and responded accordingly. There will be NO NEW campsites constructed at Pawtuckaway State Park.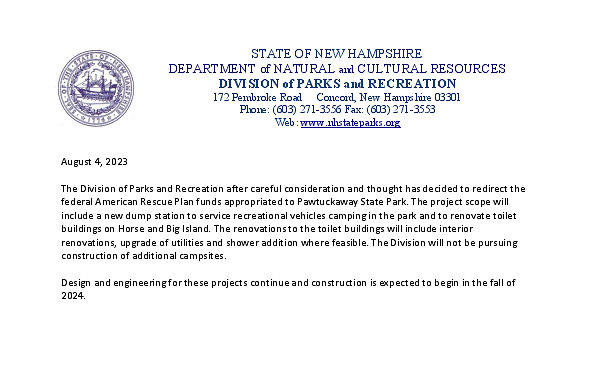 Instead, the Division will use ARPA funds to reconstruct existing toilet buildings and create a dumping station.
Finally, they are going to review their administrative rules to examine the rules around swimming. They will also be taking an inventory of all the waterfront sites to prioritize work on the most eroded ones. There are steps that can be taken to decrease the amount of erosion occurring.
Thank you to all who answered the call and sent in emails and letters as part of our letter writing campaign! You did it!
And thank you to the Division of State Parks for being responsive to citizen concerns.