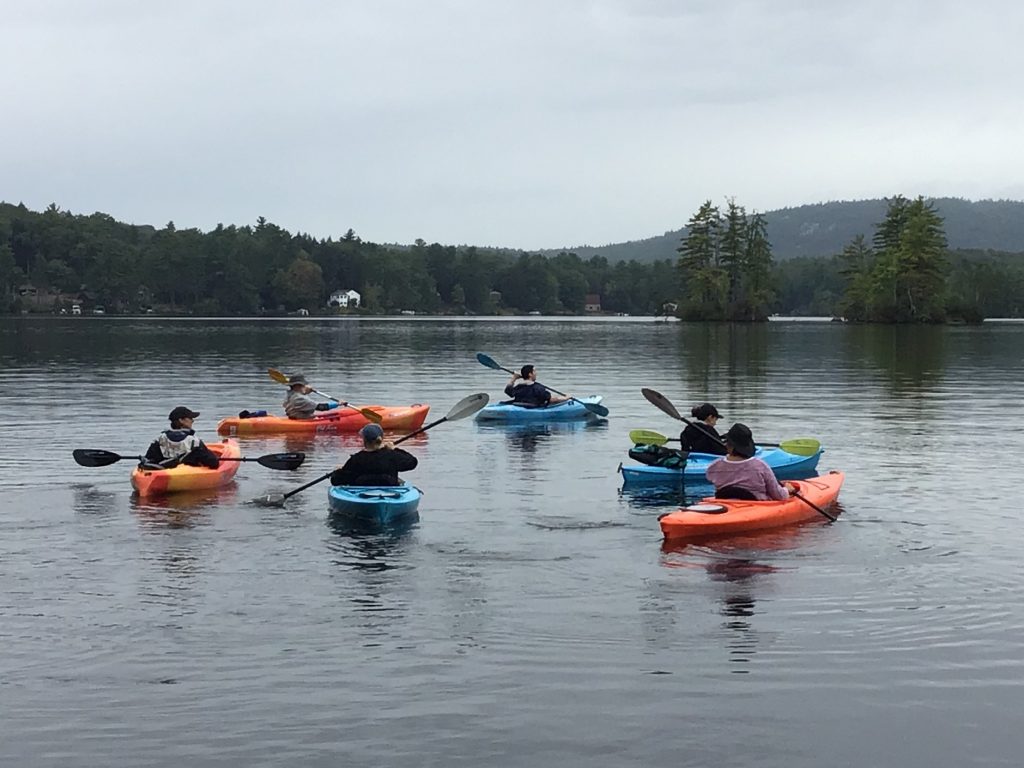 Fundraiser for the Pawtuckaway Lake Improvement Association. Proceeds all go towards efforts to keep Pawtuckaway Lake clean and free of invasive species and to educate the public about lake ecology and safe recreation.
Saturday August 28, 2021  2:00 to 5:00 pm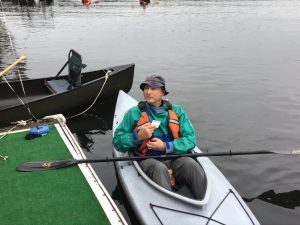 Rain date: Sunday August 29 – only in the event of thunder and lightning
Entry Fee: $25 per person. Play an additional hand for $20.
Raffle tickets: 3 for $10. Need not be present to win.
Prizes: top 3 hands ($150, $100, $50) and lowest hand ($50)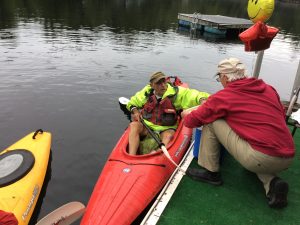 Perks for participants include:
Refreshments at every stop.
Drinks and refreshments at the after-party.
Discount coupon at Mountain Road Trading Post.
One raffle ticket.
Bring cash!
There are at-event opportunities to spend money on raffle tickets and ways to improve your poker hand.
Event description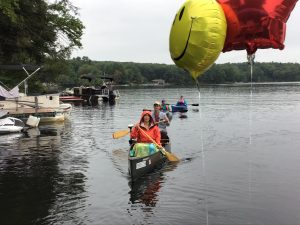 At 2:00 pm paddlers start arriving at any of the five card-pickup stations on Pawtuckaway Lake. Over the next two hours, paddlers make their way to all five stations, picking up a playing card at each station. Refreshments will be served at each station.
After a paddler has picked up all five cards they paddle to the house of Barb and Less Thompson for the after-party where drinks and more refreshments will be provided. Poker hands will be compared and prizes awarded.
Eligibility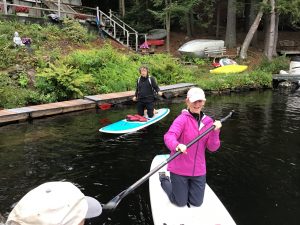 Paddlers using any type of human-propelled boat are eligible.
Don't want to paddle?
For an extra fee of $10 ($35 total) you can participate via our limousine service. A pontoon boat will chauffeur you from your location on Pawtuckaway Lake to participate in the event and take you home afterwards. Contact Barb Thompson at barb.thompson@comcast.net or 707-888-5103 to arrange your pickup location.
Want to improve your chances of winning?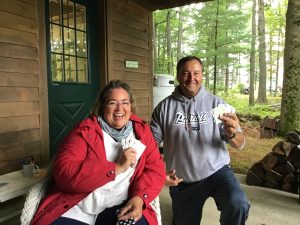 For $20 more you can play 2 hands.
Before poker hands are compared, participants will have an opportunity to buy an extra card for $10 to improve their hands.
At the after-party there will also be a raffle. Every entrant gets 1 raffle ticket. Additional raffle tickets are available for 3 for $10.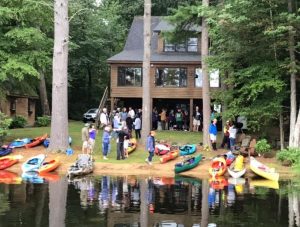 Raffle Prizes
Every paddler gets 1 raffle ticket. Additional tickets may be purchased for 3 for $10. Need not be present to win. Raffle tickets can be placed in the 3 following categories:
Group #1: Mountain Road Trading Post merchandise: 2 gift boxes (worth $125 each) from our sponsor.
Group #2: Susan Medeiros's framed artwork – 2 original framed prints from Pawtuckaway Lake's premier resident wildlife photographer.
Group #3: 2 Bruins tickets to a weekday game from RolleyHolers Bagels of Exeter, gift basket of fresh produce and baked goods, $50 Mountain Road Trading Post gift certificate, and $5 Beach Plum gift certificates.
Thanks to our sponsor: Mountain Road Trading Post, Pawtuckaway's go-to place for new and used kayaks, canoes, paddleboards, outdoor accessories, wildlife photography, and gifts.
Keep your scorecard for discounts at Mountain Road Trading Post!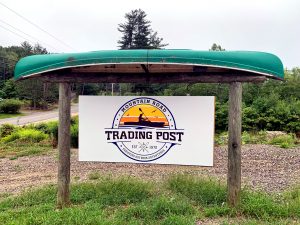 10% off Old Town Predator 13 kayaks (expires 9/30/21)
Off-season kayak rigging service (30% off, 3 hour minimum, expires 9/30/21)
Pontoon pull and transport (local) $200 for prepaid commitment by Sept 30 ($250 after)
Early bird access (8/27 to 9/3) to end-of-season clearance sale (9/4 to 9/12)
Buy one gift box, get second one and third one free (box only, not merchandise in it, $25 minimum, must be purchased on the same visit).
10% off YakPower accessories (expires 9/30/21)
20% off all Thermacell products (keep mosquitoes away)
How to Enter
PayPal: Sign in to PayPal, choose send money to friends & family, and send registration fee to members.PLIA@gmail.com. In the notes section, add Poker Paddle and your email address so we can send you the details and map.
Venmo: send money to @barb-thompson-1 Include your email address in the notes section.
Mail a check made out to PLIA to: Barb Thompson, 38 Lamprey Drive, Nottingham, NH 03290 and include your email address
Checks must be postmarked by August 21, and PayPal and Venmo entries received, by August 26th.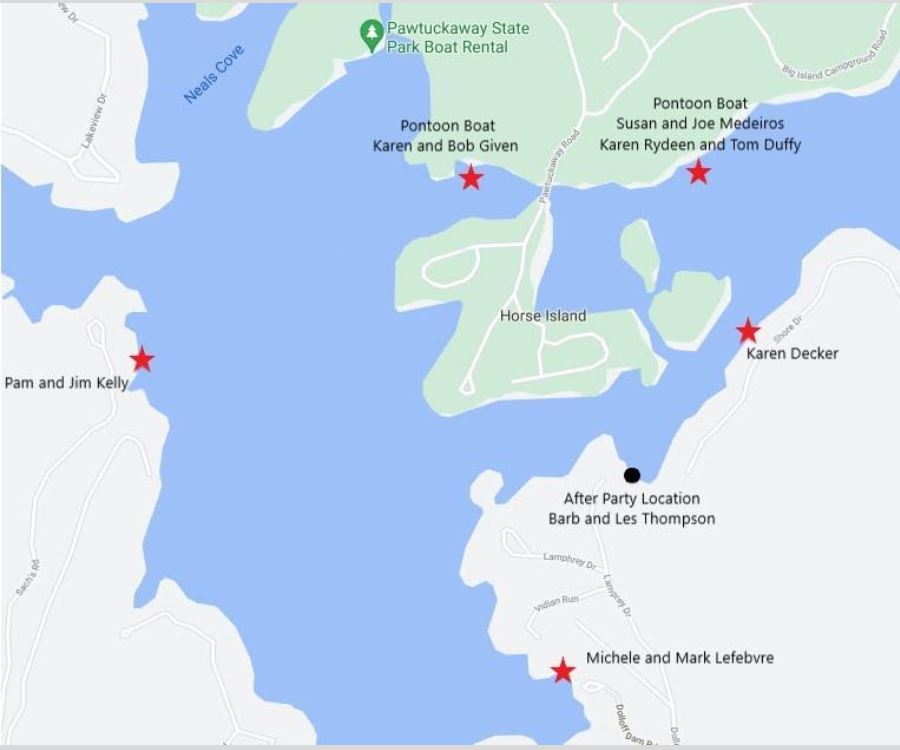 Route map for 2021 Pawtuckaway Paddle Poker