SECOND ANNUAL PADDLE POKER BENEFIT TOURNAMENT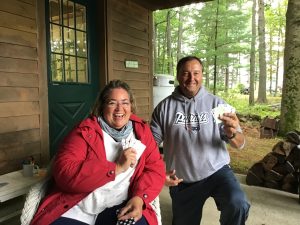 FOR THE PAWTUCKAWAY LAKE IMPROVEMENT ASSOCIATION (PLIA)
LAKE HOSTING ●  BOAT INSPECTIONS ●  ERADICATION OF INVASIVE  MILFOIL ●  WATER TESTING
Gather your neighbors and friends for a FUNdraiser for the PLIA.
Only available to the first 100 entries, so register now!
Event is sponsored by the Mountain Road Trading Post – A big thank you to MRTP!
Date:  Saturday, August 28, 2-5pm
(Rain date of Sunday, only in the event of thunder and lightning)
Location: On the lake! Course map to be provided upon receipt of entry fee
Entry fee: $25 per paddler
 Kayak, Canoe, Paddleboard eligible
New for 2021!
Pontoon Limo option ($35) for those who want to ride in style rather than paddle! Contact Barb Thompson at thompson@comcast.net or 707-888-5103.
Paddle Poker PLUS membership: Not a PLIA member yet? Add $10 or more to your registration fee to become a member
Want an extra poker hand? Only $20 for the second hand
Details: Participants will visit 5 locations on the lake (a combination of docks and boats) to pick up a playing card and enjoy a drink/snack. Once all 5 playing cards have been collected and recorded on your scorecard, you'll proceed to the final location for the after-party and prizes for the top 3 hands ($150, $100, $50) and the lowest hand ($50).
Your entry fee includes one raffle ticket for amazing prizes such as framed original wildlife prints, basket of fresh produce and baked goods, Mountain Road Trading Post gift certificate & merchandise, Bruins tickets and more. Extra raffle tickets: 3 for $10. Keep your scorecard and use it for generous specials at the Mountain Road Trading Post.  See Page 2 for details
To Enter:
PayPal: Sign in to PayPal, choose send money to friends & family, and send registration fee to members.PLIA@gmail.com. In the notes section, add Poker Paddle and your email address so we can send you the details and map.
Venmo: @barb-thompson-1   Include your email address in the notes section
Mail a check made out to PLIA to: Barb Thompson, 38 Lamprey Drive, Nottingham, NH 03290 and include your email address
Checks must be postmarked, and PayPal and Venmo entries received, by August 21st
Raffle Prizes
Raffle tickets 3 for $10 ● Need not be present to win
Raffle tickets can be placed in the 3 following categories:
Group #1:  Mountain Road Trading Post Merchandise:  2 Gift boxes (worth $125 each) from our Sponsor and local purveyor of new and used kayaks, canoes, paddleboards, outdoor accessories, wildlife photography and gifts
Group #2:  Susan Medeiros Framed Artwork – 2 original framed prints from our resident wildlife photographer
Group #3:  2 Bruins tickets to a weekday game from RolleyHolers Bagels of Exeter, gift basket of fresh produce and baked goods, $50 MRTP gift certificate, and $5 Beach Plum gift certificates
Keep Your Scorecard for These Valuable Discounts at the Trading Post!
10% off Old Town Predator 13 kayaks (expires 9/30/21)
Off-season kayak rigging service (30% off, 3 hour minimum, expires 9/30/21)
Pontoon Pull and Transport (local) $200 for Prepaid Commitment by Sept 30 ($250 after)
Early Bird Access (8/27 to 9/3) to End of Season Clearance Sale (9/4 to 9/12) – Must Present Coupon / Select Categories
Buy One Gift Box, Get Second One and Third One Free (box only, not merchandise in it, $25 minimum, must be purchased on the same visit).
10% off YakPower accessories (expires 9/30/21)
20% off all Thermacell products (keep mosquitoes away)