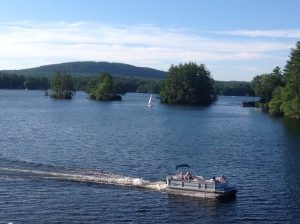 Boating season always seems too short, but it is time to start thinking about the lowering of the lake this fall!
According to C. Wayne Ives, P.G., Hydrogeologist, NH Department of Environmental Services, the Dam Bureau has sent out the planned drawdown dates on its website and as a press release: https://www.des.nh.gov/news-and-media/state-announces-its-2021-fall-drawdown-lakes.
As usual, the Pawtuckaway Lake drawdown is scheduled to begin on Columbus Day, October 11.
The fall drawdown plan is still to release 70 percent of the water from Drowns Dam and 30 percent from Dolloff over the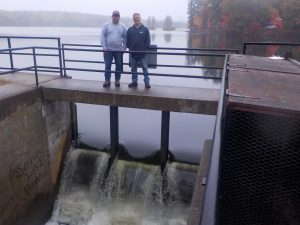 fall and winter. Releasing water mainly from Drowns is part of the plan for exporting more phosphorus from the lake, especially during mid to late November into early December when phosphorus spikes have occurred at Drowns in the past. However, over a short period, we will still be letting the alewives out first by starting the drawdown from Dolloff before that period of higher phosphorus occurs. This is because the alewives will go over the dam at Dolloff (in photo above), but do not go under the Drowns gate. Dolloff needs to be opened by itself because when both dams are open, the alewives are more attracted to the larger flows at Drowns, but they can't get out there. So to accomplish both goals of exporting phosphorus and alewives, we will again start releasing from Dolloff for the alewives, then, after a week or so, will open both dams at the 70/30 flow rates for the phosphorus export.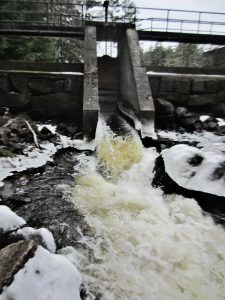 Wayne is still trying to get the Drowns gate replaced with one that would pass alewives. Then there would be no need to start the drawdown at Dolloff.
So, make your plans now for end-of-summer boating and get ready for taking your boat out this fall!
And meanwhile, see you on the lake!