You may be seeing ice fisherman on parts of Pawtuckaway Lake, but there is still a lot of open water, and that could spell danger for anyone venturing out. Please never go on the ice alone, and always check the thickness before you step on it. Remember, ice thickness can vary from location to location, so always keep checking!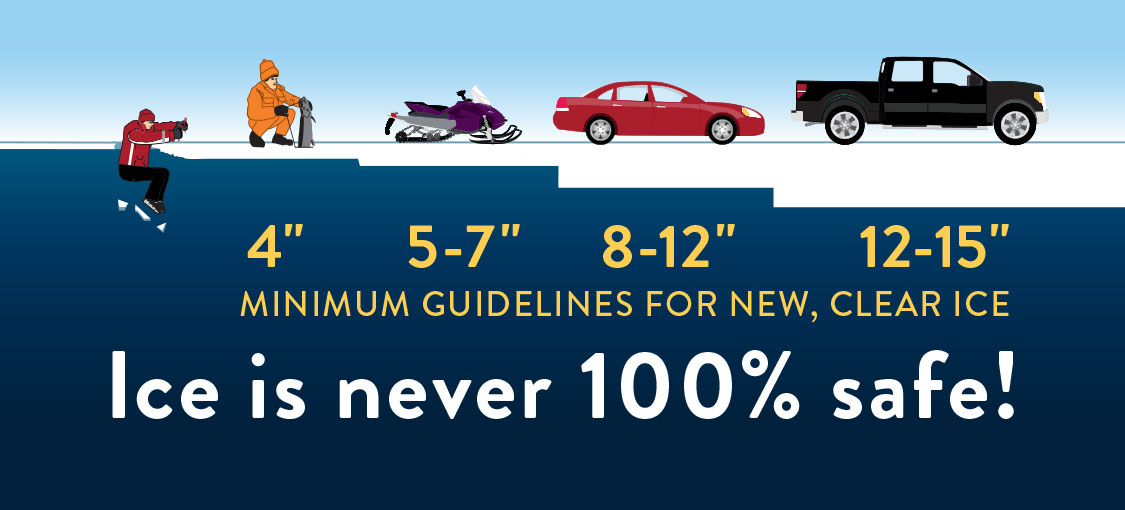 The graphic above has rough minimum measurements you should consult before doing so. However, the U.S. Army Cold Regions Research & Engineering Laboratory in Hanover, NH, offers a "rule of thumb" on ice thickness: "There should be a minimum of six inches of hard ice before individual foot travel, and eight to ten inches of hard ice for snow machine or All-Terrain Vehicle travel."
Temperatures this season have varied wildly, with snow, rain, thawing and freezing weather creating dangerous conditions on the ice. Ice can be thick, but not strong, because of varying weather conditions. Weak ice is formed when warming trends break down ice, then the slushy surface re-freezes.
The New Hampshire Fish and Game Department has a very helpful booklet regarding ice safety and you can read it by clicking here.
To all our winter sports enthusiasts:  Safety first!