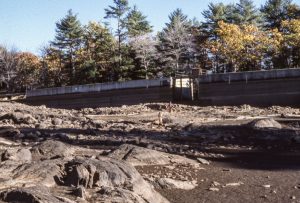 Background:  Dolloff Dam is at least 176 years old as of 2018, according to a survey conducted by the Army Corps of Engineers in 1978. Over the years it has seen many improvements and repairs. The stoplog section was added to the dam in 1956 in place of a gated outlet at the same time the spillway was enlarged. In 1964, its upstream side was resurfaced with concrete and in 1970 a concrete walkway was built. In 1974, the dam was again rehabilitated and the stoplog section was reconstructed.
Forward to more recent times:  By 1985, further repairs had become necessary. In order to conduct the repairs, the level of  water in Pawtuckaway Lake had to be dropped drastically so that work could be accomplished on dry land. In the fall of that year, therefore, the usual drawdown of the lake continued until most of the water was drained off by October. This left an eerie landscape that was captured in photographs by former Pawtuckaway resident George Robinson, among others. George offered his photos to the Nottingham Historical Society and member John Bartsch transferred the images from slides to digital pictures. Courtesy of George, John, and the Nottingham Historical Society, we are pleased to be able to share this wonderful view into the past with the visitors to our website.
We have created a new Photo Gallery here, devoted to these pictures to add to our permanent collection of photographs of Pawtuckaway Lake on this website. For those of you who may have your own memories of this historic event, we would love to hear from you. Needless to say, if you have photos of the lake during or after it was drained that you would be willing to share as well, we will be delighted to post them on the website. Just send us an email at: Info@PawtuckawayLake.com and if applicable, attach your pictures.   Enjoy! And thanks!