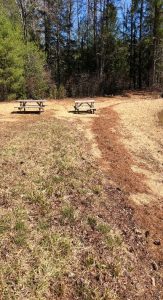 On April 16, 2022, a crew of PLIA members volunteered to take on the Town beach as a service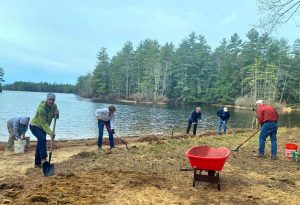 project for Nottingham Clean Up Day. They brought their tools, rolled up their sleeves, and got  to work on reversing the neglect of five years without maintenance. From 8:00 – 11:30 AM on April 16th, volunteers wielded picks, hoes, rakes, saws, loppers, and wheelbarrows in an effort to reclaim the sand that had been taken over by grass and bushes.
It turned out to be a more challenging task than anyone had anticipated. The grass had roots that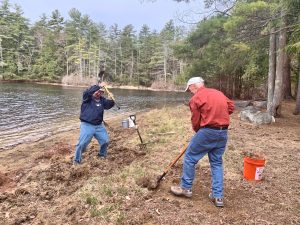 were holding together a lot of soil on top of the underlying sand. The bushes had roots that were long and tough and resistant to being pulled up.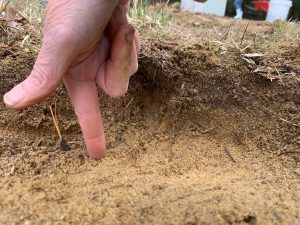 One observant worker noticed the layering of soil and sand under the grass. The top part was darker brown and clearly the product of decomposing plant matter over a number of years, while the sand beneath remained a lighter inorganic shade. Very dramatic! However, it made the group's job clearer – remove as much organic matter as possible and expose the sand to the surface rays of the sun. Backbreaking but rewarding work.
As for the bushes, well, they often required a reciprocating saw to trim their branches and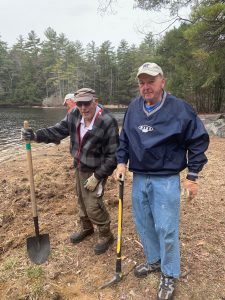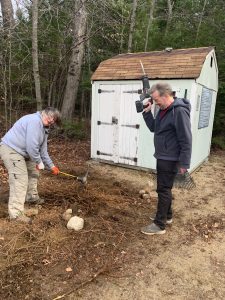 a lopper to tame their roots. Thank goodness for the wheelbarrow to transport the discarded plant matter into the woods where its decomposition would benefit the trees and wildlife.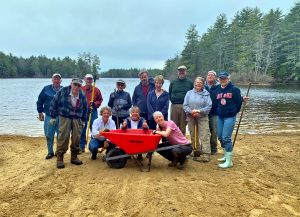 All in all, a successful morning amidst beautiful scenery. Fresh air, a breeze to blow away the bugs, good company, plenty of exercise. And Pawtuckaway Lake looks good from every angle!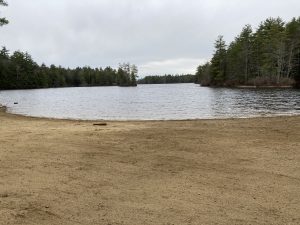 Now, so does the Town beach!