YOU CAN BE A LAKE HOST WITH A FEW CLICKS TO GET STARTED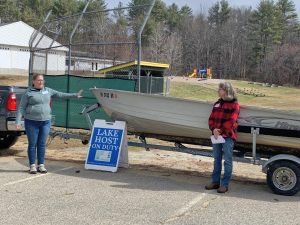 Did you miss the April 3rd training or the "How to Lake Host" webinar?
Wondering what you need to do to become a Lake Host?
Below is a step – by – step pathway to Lake Hosting!
NH LAKES Lake Host Volunteer Onboarding:
• Find the Volunteer Timesheet at https://drive.google.com/…/1A9Vv-VrSR4d…/view- this is the . Time will need to be submitted on a bi-weekly basis in the drop box at the Nottingham town offices outside the gym door or in Coordinator Dee Decker's newspaper box at 11 Lakeview Drive
Here is information specific to PLIA Lake Hosting:
1. PLIA Lake Hosts use paper forms for boater surveys, not the app discussed in the training materials. The boater surveys are provided for Lake Hosts and stocked in the boxes at the ramps. All boater surveys should be dropped off at 11 Lakeview Drive, or in the drop box at the Nottingham town offices outside the gym door.
2. Uniforms and other materials – please contact Dee Decker if you need any material or a uniform t-shirt: deedecker.plia@gmail.com
3. We are encouraging volunteers to work in teams of two. Most of our volunteer hours will be at the State Park and are at the discretion of the volunteer. We will send out emails and reminders via SignUp Genius. Get the link to the 2022 SignUp Genius calendar at https://www.signupgenius.com/go/60b054ea5ac28a6fd0-2022. Dee will be adding shifts this week.