On October 17, 2022, Milfoil Team Chair Neil Santos made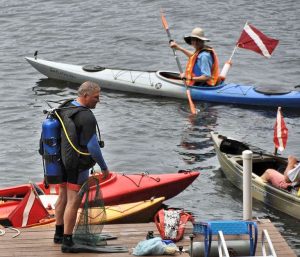 a presentation to the Nottingham Board of Selectmen at one of its regularly scheduled meetings. He outlined the history of milfoil infestations in Pawtuckaway Lake, emphasizing the hundreds of hours that PLIA volunteers have donated in efforts to find and extract this noxious threat to the lake.
The Town has contributed support to the PLIA's Lake Host Program for many years. Dee Decker, Chair of this Program, trains and deploys people to conduct voluntary boat and trailer inspections at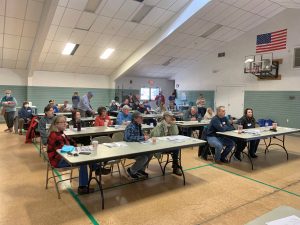 public ramps on the lake to prevent invasive aquatic species of all kinds from entering the water. Last year she organized a community training to include interested residents from other lakes in town.
In 2015, however, milfoil was discovered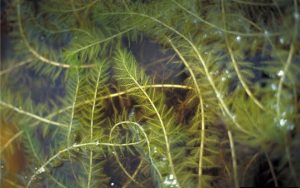 in Pawtuckaway Lake just off the State Park boat ramp, and since then it has been located – by PLIA volunteers – in many other coves and areas of the lake. Pawtuckaway is located entirely within the borders of Nottingham, and thus the Town has taken a special interest in preserving the health of its signature resource. For this reason, the PLIA felt it was important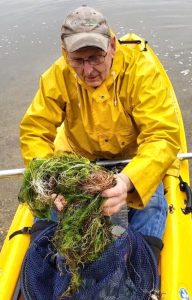 to keep the Board of Selectmen and citizens of Nottingham informed about the threat posed by the growing presence of milfoil in the lake. The Town beach and State Park have recently experienced significant milfoil discoveries.
Neil's report demonstrated how widely distributed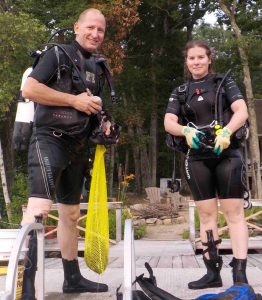 the areas of milfoil around the lake have become. The maps in his report are particularly dramatic and disturbing. He also outlined the efforts made by the PLIA and its volunteers to locate and contain these infestations. Finally, he explained what more comprehensive and possibly drastic measures might have to be taken if the situation continues to worsen.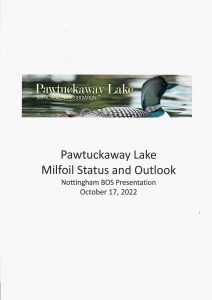 One member of the Board of Selectmen urged others to visit the lake for themselves to learn about these undertakings and see how serious the problem has become. The best way to understand the scope of milfoil growth in Pawtuckaway Lake is to read Neil's report, Pawtuckaway Lake Milfoil Status and Outlook. We think you will find this report comprehensive, informative, and eye-opening. Please join or renew your membership in the PLIA now and help us fight this threat to our lake!