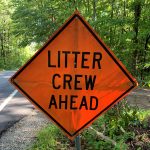 The turnout of volunteers to pick up trash along a stretch of Route 156 on Sunday morning was the best ever! Because so many folks showed up to help, mountains of refuse were collected in record time. The sun was shining, a breeze kept the air fresh, and one or two passing drivers even slowed down to yell their thanks to those toiling by the roadside.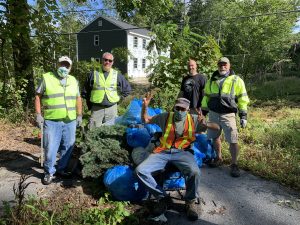 The PLIA has participated in NH's Clean and Scenic roadside trash removal program for many years. Not just content to keep the waters of Pawtuckaway Lake clean, our volunteers bring their talents to dry land to remove the bottles, bags, cups, wrappers,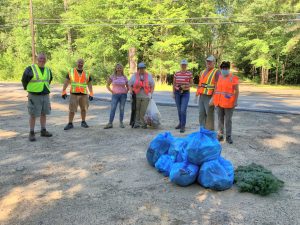 containers, and other litter that accumulates over the months from motorists tossing these items out their windows. This summer one volunteer even found a discarded artificial Christmas tree!
Heartfelt thanks to all who came out at 9:00 AM on a beautiful Sunday morning to dedicate themselves to this civic effort! It was a show of love for this Town and appreciation for the entire community.