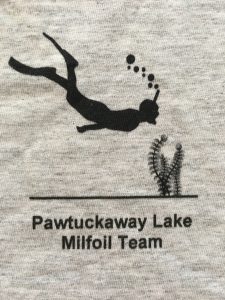 If you have been reading about Neil Santos and the new PLIA Program he is heading—as well as the discovery of new milfoil growths in Gove's Cove—then you know how important it is for everyone who loves Pawtuckaway Lake to pitch in wherever they can in our campaign to eradicate milfoil.
Neil is looking for volunteers who like to snorkel and can join his team from time to time as they make their surveys to locate and mark milfoil in the lake. It's OK if you can't snorkel with Neil every time his team goes out—now and again would be helpful as the need for more surveys grows. They normally go out for about 1 1/2 hours and are flexible about the time and day of the week.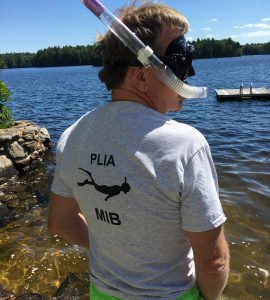 If you have some experience with snorkeling, have a mask, snorkel, and fins and are interested, please consider joining the team. If you are a diver, your assistance would be particularly valuable.
Even though the team has dubbed itself "Men in Black" since they look for alien species and sometimes wear black wetsuits, women are more than welcome to join. Please contact Neil Santos at 603 437-8468 or at neilsantos@comcast.net if you would like more information or would like to volunteer.
Thank you!