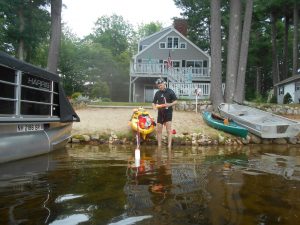 On July 9, 2017, PLIA volunteer Neil Santos and his team of Weed Watcher snorkelers and divers traveled up to the boat launch in Fundy to search for milfoil. They started at the launch and snorkeled their way down the stream about 2/3 of the way to the black marker where the stream opens up.  The visibility was extremely poor. Close to the launch there was considerable sediment in the water due to the boat traffic/ launches but even downstream the amount of tannin in the water made it difficult for sunlight to penetrate and kept the visibility to 2-3 feet at best.  Fortunately, Fundy is quite shallow and, even though they could not see very well, they had good confidence that they would have spotted any significant patches of milfoil. They saw a good deal of bladderwort, native milfoil, and grasses but were happy to report that they did not see any invasive milfoil. Thanks to diligent boaters and especially to the Lake Hosts!
On the following weekend, July 15, 2017, the team convened in the South Channel and searched Area 3, where they discovered a number of patches of milfoil in the mid-channel area.  Each patch contained a handful of plants. They were all in the area where milfoil was discovered last year so it is undoubtedly regrowth.  The "relatively" good news was that the plants were all comparatively small,–about 6 inches to 2 feet tall–and therefore well out of harm's way of prop contact and prop wash. They also surveyed the area to the southwest of the mid-channel where they had found a couple of plants last year but that area appeared to be clear.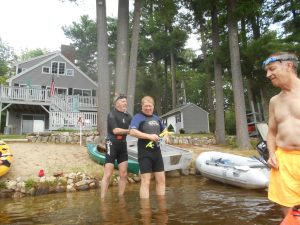 They left a few markers in the channel but there are more patches than are indicated by the floats. They plan to put out additional markers to guide the divers closer to the time when they will be here to pull what was found.  The DES divers will be here during the week of July 24-28.
Let's hear it for the Weed Watcher snorkeler team!