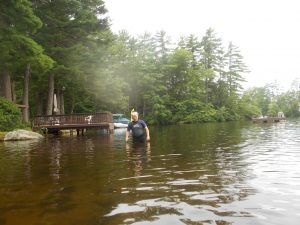 Our Weed Watcher snorkel team captain Neil Santos has this update on milfoil at Pawtuckaway Lake:
Divers from NH Department of Environmental Services were at the lake Friday morning to remove the milfoil that had been marked by Neil's team.  While they did remove milfoil that was found, the divers discovered that many of the very small plants, which were thought to be milfoil regrowth areas, were actually coontail, a native plant. Those who have reported seeing such plants in the lake and have wondered if they were milfoil will appreciate how similar the two plants look.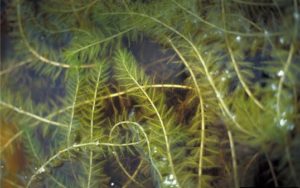 There was also one marker that had somehow been moved over the past week which Neil relocated using GPS, but the divers could not find that milfoil. This was one small plant which will need to be located again by snorkeling.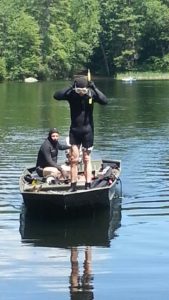 In addition to checking the marked areas, the DES divers did a general sweep of the mid-channel area between the markers but did not find any additional milfoil, so we know there is at least one small plant in the channel. It is also a fair probability that there are other small milfoil plants as well that haven't yet been found.
It is important to note that the divers have removed less and less milfoil on each visit over the past two years.  It is hoped, therefore, that containment, and possibly even elimination, look promising as long as careful monitoring of the channel area can be continued for at least the next couple of years.
It also goes without saying that our Lake Host program is a crucial tool in minimizing the probability of re-infestation!
A heartfelt thanks to the tireless efforts of Neil's Weed Watcher snorkel patrol and our vigilant Lake Hosts!