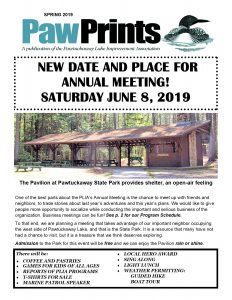 The PLIA's annual newsletter, PawPrints, is ready to read. The print version has been mailed out and many of you have already received it.  Even if you have, it's worth taking another look at our electronic version, because it's so much better in color! And if you haven't, there's a lot of important news inside that you won't want to miss.
For example, we are excited to report that our Annual Meeting is getting a makeover, and we want to share the details with everyone. New time, new place. Hope to see you all there!
To read the PawPrints online, just click on Pawprints spring 2019 edition.