The mission of the Pawtuckaway Lake Improvement Association (PLIA) is to monitor and act upon environmental and safety issues that affect Pawtuckaway Lake,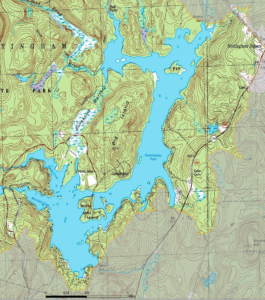 to educate the public on the conservation, protection, and improvement of  water quality, natural shoreline, wildlife habitat, recreational resources, safety, and natural resources as they pertain to the welfare and interest of Pawtuckaway Lake.  To that end, the PLIA collaborates with conservation commissions, planning boards, state and federal entities, land trusts and other conservation organizations working to conserve or protect natural resources that have an impact on the Lamprey River watershed that includes Pawtuckaway Lake.  We invite you to explore these pages, become informed about our organization, come visit and enjoy our "little piece of paradise", become a PLIA member, and consider joining our dedicated volunteers to help us achieve our mission.  You'll be in good company!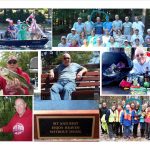 And the Local PLIA Hero Award goes to…..Don Roberge!  Thanks for your enthusiasm and service to Pawtuckaway, Don!  Read more…
 Annual Meeting!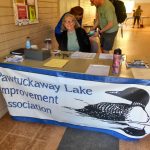 Please join us on May 19, 2018, for an event-filled morning. This year we honor a local hero, offer many raffle prizes, and plan interesting and stimulating discussion groups. Read more…
Annual Meeting Edition of PawPrints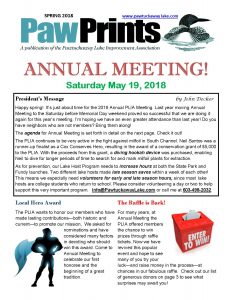 The PLIA has published a second edition of its newsletter–this one is devoted to our Annual Meeting on May 19th. Read more…..
Urgent–Lake Hosts Needed for 2018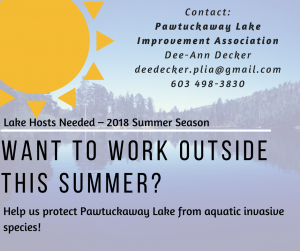 The PLIA is recruiting and interviewing for paid and volunteer Lake Hosts to work during the 2018 season. To learn more about this opportunity, click here.
PawPrints Newsletter–Early Edition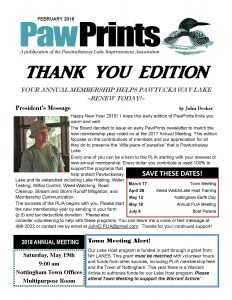 The PLIA recently mailed out its newsletter with an early edition to say 'Thank You' to all its members and volunteers. You can read the electronic version–in color–here.
 New Page
The article about Lake Levels has been moved and we have added a link about beach advisories to a new page we created called Lake Conditions. In the future, you  can expect to see additional articles and information about conditions on Pawtuckaway Lake at this location.